I am happy to let you guys know of an amazing offer for this weekend only!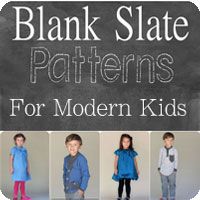 Have you tried out any of the patterns by Melissa from
Blank Slate Patterns
?
This weekend, Melissa is offering the
Blank Tank Pattern
for only $1.00. One Dollar! Seriously go and get it!
Use the code MEMORIAL13 to get the discount on the Blank Tank. And to make the deal just that little bit sweeter, the
Blank Tank
will count as one pattern in her bundle offers! (*See the bundle codes at the end of the post).
Now I have made the
Blank Tank
a couple of times and it is such a quick pattern to whip up for summer. Here I have it paired with some Clean Slate Shorts. Elijah wore this outfit all summer, I was so proud when he wore a completely mummy made outfit :)
Use an old t-shirt for the fabric and you have an incredibly cheap peice of clothing for your little one. Leave the pockets off completely or make it out of a funky contrast fabric. Both the pockets above were made using fabric from baby onsies, perfect way to upcycle them!
And it can easily be made for girls too! I know tank tops are a summer staple in my wardrobe. :)
Now, I am an affiliate of Blank Slate Patterns, which means I get a small commission if you buy from them when you click through my link. I own 10 of Melissa's patterns and I got them all before I even knew what an affiliate was. Haha. So I am letting you know about this deal, not for any commissions I receive, but because I honestly love Blank Slate Patterns!
I don't receive a commission on this amazing offer of a $1 pattern, I'm just telling you to go and get it! :) Seriously... get on over to
Blank Slate Patterns
. Offer ends Monday.
*Bundle offers:
Buy 3 Patterns, Use code BUY3, get 10% off
Buy 4 Patterns, Use code BUY4, get 15% off
Buy 5 Patterns, Use code BUY5, get 20% off