Hey guys. I found myself overwhelmed with sewing mess again. This seems to be a pattern for me so I need to get organised.
About 6 or so months ago, I found this awesome post titled
10 steps to clean your house fast
. Using this list has really helped me to keep my house 'guest ready' most of the time, even if it is only the living areas.
But the thing is, my sewing room always seems to become a
creative frazzled mess again
! Well seeing that a list has helped me so much with the rest of the house, I made a specific list just for my sewing space.
Now. The key to this list working for me is that it keeps me focused. I have specific goals, reminders and a plan. You can change this list how you like, but I would 110% recommend printing out a cleaning plan to keep you on task. Without the list I would clean up bits and pieces here and there with no real plan of attack. With the list I keep myself on track and motivated. You can do some steps at the same time as each other but have one main focus to go back to, keep focused!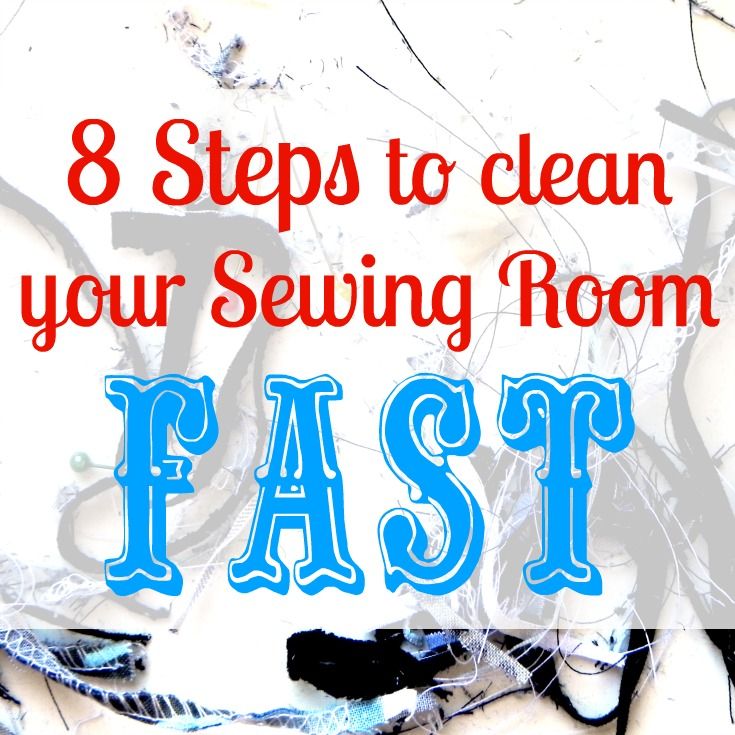 8 Steps To Clean Your Sewing Room Fast
Grab a big rubbish bag or large basket and start picking up rubbish. Fabric scraps, thread balls, blunt needles, paper off cuts, that pattern your two year old ripped up. It's all rubbish, get rid of it. Even that old t-shirt you have already used for one project. You say to yourself "but there might be enough fabric to do another". Let's be honest, just chuck it out. If you are anything like me, and messy, then chances are you are also like me and no, you probably won't get around to it.


Next up, anything else that doesn't belong in the room has got to go. The kids toys, that jumper someone threw in the corner, shoes you left around, half finished cup of coffee, that plate with crumbs on it. Again, pile it all in a bag or basket and take it out. Don't put that stuff away now though! We are focusing on this one room and if you head off now to put those things away it is likely your sewing room will get left untouched once again.


Designate some space for piles. Now collect the random fabric laying around and make piles. Small fabric peices in one, large fabric peices in another, clothing for repurposing in another. Go through the room and grab all the stuff that is laying around and assign it a pile. You can choose different piles to what I have, you could have knits in one, woven in another. It all depends what you have laying around the place, making mess :)


If you haven't already, designate homes for your stuff. Where is the fabric stored? Thread, notions, patterns, so on. No use going any further if your stuff doesn't actually have anywhere to go. Seriously, go to the dollar store and buy some plastic drawers or shelves if your stuff doesn't have a home yet.


Pick up thread spools and put them in their place. Same with zippers, buttons, notions, needle packets that have made their way out of their home. Send 'em back. Store the patterns you want to use again. Fold them up, and dont worry about creasing them, you can iron them out next time easy peasy.


Now we should have some clear space. So get to folding your fabric piles. Put them away.


Vaccuum. This one step makes such a huge difference. Just do it.


I put this step in because it is a great reminder. Clean out the sewing machine. Oil if needed, change the needle if needed.

...bonus step!...
Seriously, if you have some stuff you know you will never use, consider having a de-stash sale or just donating it. More stuff means more stuff to clean.
So now I am curious. Do you guys have some organisation tips for me? Is there some secret, which I don't know yet, that might help me keep the room clean?
xx