I have been following Esther's blog,
The Design Loft
for a long while now. I am sure you all know by now that I have a keen interest in designing patterns for my children, possibly listing them for sale in the future.
Esther's blog is full of helpful pattern making and grading information and it has served as a good reference for me. So when I saw that Esther had
released an ebook
I was keen to see what was in it.
The Organized Fashion Designer
is an organisational tool that you can use to do just that, organise your fashion ideas! I have already started using some of the forms below.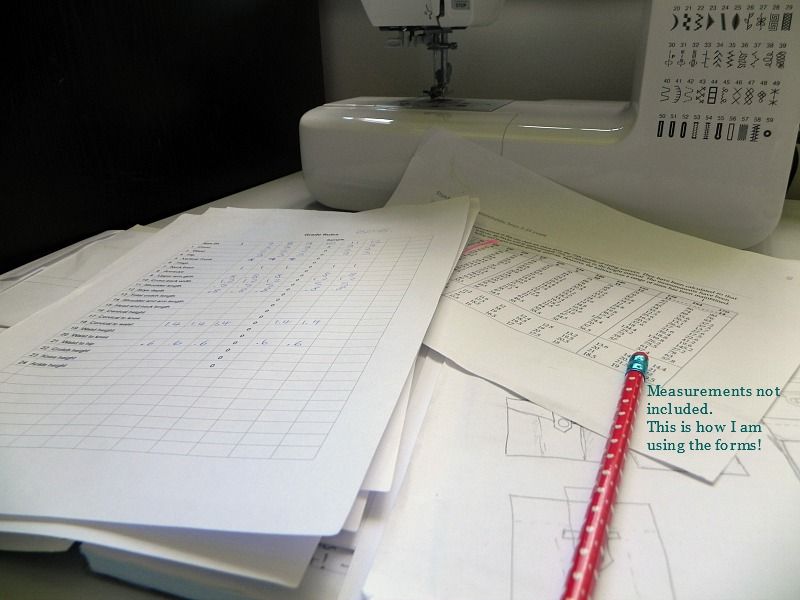 Esther has worked for many years as a professional pattern maker and grader, this translates into her ebook. Through seeing all the different forms used, it provides a keen insight into what is necessary to produce large scale quantities of sewn products. The book does not provide any measurements, or instructions on how these translate to a pattern, but helps you to lay the foundations to build upon. The charts provided are where you would lay your groundwork, measurements, grade rules, pattern numbers are all necessary parts of designing a pattern for sale or starting a manufacturing business.
As a home sewist, some of the forms are not relevant to me. The best part is that Esther has decided to break up the book into smaller sections so you can buy the ones most useful to you. The
measurements bundle
is the one that has gotten the most use so far, but I have also started to use the
design bundle
too.
I realise some home sewist's don't even know what grading is! But I also know that those who do know, and are searching for information, will appreciate the forms that are provided in this book. Sometimes you can read things over and over and never really get the concept until you actually physically do the task. Grading is like that.
The grade rules form, included in the measurements bundle, simply illustrates how to derive grade rules from measurement charts and provides a form for you to fill in. This form is helpful to have handy when you are about to calculate the grade rules for an individual pattern, rather than looking at the measurements chart and trying to calculate them each time.
Later on this week I will compile a list of my favourite grading posts from different places around the internet. With those posts and these forms you can be well and truly on your way to pattern design.
There are plenty of other forms included in the book, including a Cost Analysis form, which has a clear explanation on how to calculate the costs in producing an item. I think this form would be invaluable to someone who is selling sewn products from home, as I know many who are always considering what exactly to charge for an item.
The book is available in a number of formats, is 54 pages and is $12.95
USD
, or the separated parts are $5.00
USD
.
If you think that you would make use of these forms, leave me a comment at the end of this post for your chance to win a copy of the complete PDF version - tell me how you think you would use it! The giveaway will close this Sunday, or Saturday night for those of you in the US / UK.
**CLOSED**
The fine print:
Open internationally.
This give away is a game of skill - most interesting answer will win.
Closes Sunday 25th August 2013 (AEST)
Judges decision is final and no discussion will be entered into.
DISCLAIMER: I recieved a free copy of the ebook to reveiw, all opinions are my own and written honestly.